Content syndication plays a vital role in maximizing the visibility, reach, and influence of businesses in today's digital landscape. It offers businesses opportunities to expand their reach by distributing their content on external platforms and reaching new audiences. No wonder the content syndication industry is expected to increase from $4.5 billion to $5.3 billion between 2020 and 2027.
Content syndication enhances brand authority by associating the brand with reputable industry voices and thought leaders. Additionally, it drives organic traffic to the business's website, increasing the potential for lead generation and conversions. Because of these benefits of content syndication, many businesses are actively investing in syndicating their content and amplifying their marketing efforts.
However, building successful content syndication campaigns can be a bit challenging. The complex processes of content customization, platform selection, and measuring performance can be overwhelming. In this post, we will share valuable tips and tricks to build an effective content syndication campaign that yields remarkable results.
7 Tips to Create Effective Content Syndication Campaigns for Businesses in 2023
Follow these seven content syndication tips to optimize your syndication efforts and set up your brand for success at content syndication.
1. Consider Your Content Syndication Goals
Like marketing, you must have a clear idea of what goals or objectives you wish to achieve through your content syndication campaign. Without understanding the what and why, your content syndication strategy would yield disastrous results. Hence, it is important to define what you want to achieve through your syndication efforts and set achievable goals.
Here are some key objectives to consider.

Increase reach and brand visibility to attract new customers

Drive traffic to your website to generate clicks and increase website visits

Generate leads and boost conversions to expand the customer base

Position your brand as an authority in your industry

Generate authoritative backlinks to support your SEO efforts
In fact, a survey conducted on B2B marketers revealed that 76% of marketers leverage content syndication for lead generation. 
Setting content syndication campaign goals will provide your efforts with the much-needed direction and ensure successful content syndication results. 
2. Assess Your Existing Resources
Content syndication aims at making the most out of your existing content. So, conduct a comprehensive content audit to dig deep into your content library and identify unique pieces that can be repurposed or promoted. Some of the most effective forms of content for content syndication campaigns are whitepapers, infographics, webcasts, videos, blog posts, and long-form articles.
Learn more about your industry and niche to understand your target audience for identifying high-performing content that can be repurposed or syndicated effectively. Next, ensure that the chosen content is fresh and up-to-date by improving its quality, updating the statistics, and optimizing it for search engines. 
You can also look up content pieces that can be repurposed into other forms of content to be shared across different platforms. 
For example, if you are a B2B product company, you can design your product content syndication campaign to focus on repurposing your product-related content. An informative blog post can be converted into an infographic or a video to increase its reach and engagement potential across various channels. Similarly, a whitepaper or a research report can be repurposed into a blog post. 
Branticles published an email marketing guide containing an infographic that was later on syndicated on leading websites and shared on various social media platforms.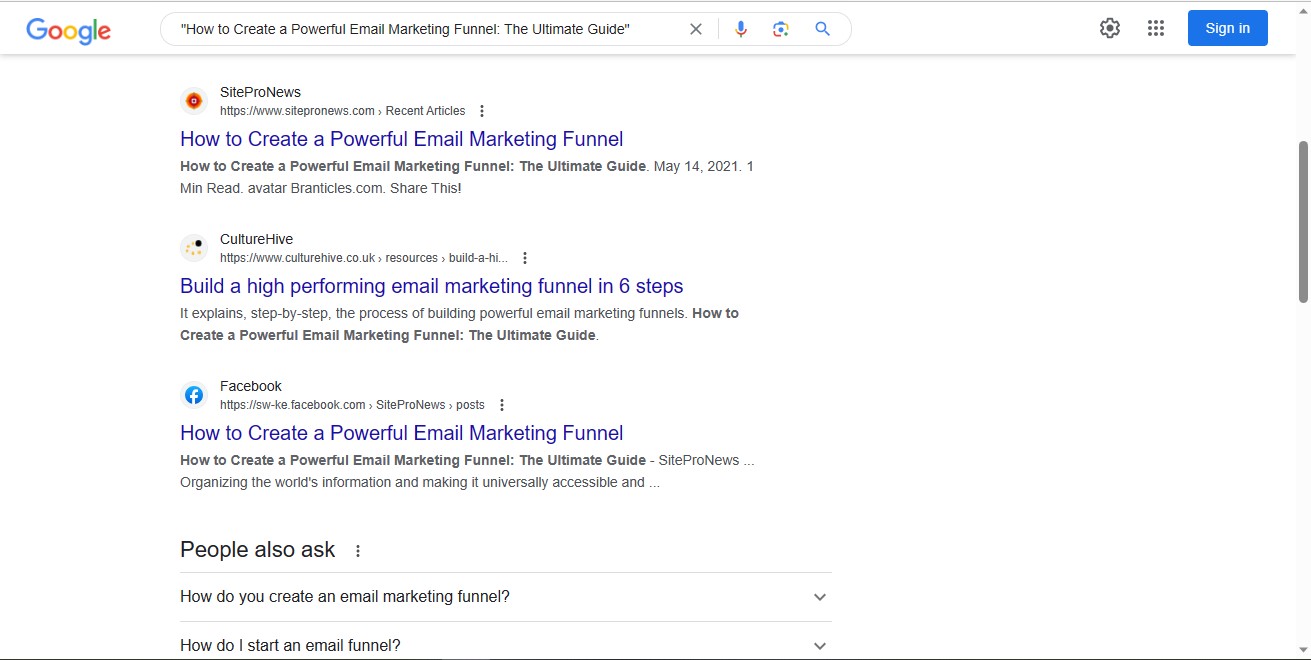 Your aim must be to make your content stand out amidst hundreds of thousands of content pieces available on the internet today.
3. Explore Various Syndication Options
As we all know, content syndication works differently with every industry and publisher. Hence, exploring all your syndication options makes it easier to decide which platform will be effective for your brand. 
Here are a few different content syndication tactics you can consider investing in.
Paid syndication

One-off syndication

Trade syndication

Partnerships with third-party content syndication companies

Indirect syndication via guest posting

Self syndication
Research and identify various content syndication platforms that align with your target audience and industry. This will help you utilize them as your content distribution channels effectively. Connect with various industry-specific content syndication websites, blogs, content aggregators, freelancers, and agencies offering content syndication services, or social media networks. 
Focus on sharing your content with your niche audiences and gain increased brand exposure. Collaborate with industry influencers and thought leaders to syndicate your content through their platforms via guest blogging, content partnerships, webinars, and more. You can leverage their audience and credibility to boost the impact of your content.
4. Choose the Right Syndication Partners
Besides choosing the right content and best channels, it is crucial to find the right syndication partners for your brand. Begin your search on Google using keywords, such as originally published on, republished on, or more to discover relevant websites. Utilize content syndication tools like Outbrain, Taboola, and others as well as SEO tools, such as BuzzSumo, SEMRush, or Moz to identify potential websites for content syndication. 
If you have any budget, you can invest in paid platforms and leverage their content syndication network for your syndication efforts.
Here are a few questions to consider before finalizing your content syndication partners.
Who is the target audience of your syndication partner?

What type of content does the partner share? Is it relevant to your niche?

What content style, tone, and presentation does your content syndication partner follow?

What editorial guidelines does your syndication partner follow?
The answers to these questions will give you a fair idea about the syndication partners you must collaborate with. This ensures that your content will reach the right audience, resonate with them, and also drive desired outcomes for your brand. 
For instance, a B2B company must select syndication partners that serve a highly-targeted audience usually business leaders, key stakeholders, and C-suites professionals who are seeking solutions or information related to its industry. The ideal channels would be business websites, technology websites, online business communities and forums, and more. 
B2B businesses must choose syndication partners with a strong industry presence and relevant audience base when planning their B2B content syndication campaigns.
5. Consider Serving as a Syndication Host
Besides syndicating your content on other external platforms, you can offer your website as a platform for syndicated content from other sources. This will help you position yourself as an authority in your industry and enhance the credibility of your brand. 
Sharing engaging content and hosting a few syndicated articles will introduce your brand to additional partnership opportunities. Diversify your content offerings to ensure a consistent flow of content to your readers thereby complementing your content creation efforts. By offering your audience fresh perspectives, intelligent industry insights, and expert articles, you encourage them to regularly return to your website for up-to-date content. 
Remember to host someone else's content on your channels, you must seek permission from the content creator. You may also request them for a content exchange where you publish their content and they publish yours. 
Further, being a syndication host may also open up monetization opportunities for your brand. This additional revenue can then be utilized for enhancing your content creation and marketing efforts.
6. Understand All SEO Implications
Content syndication and SEO can get tricky and challenging if you are not doing it right. For example, content syndication may potentially result in duplicate content as the same piece of content is being published on multiple platforms at a time. If not properly handled, the search engines may view it as copied content and may not rank it as prominently in search results. 
Similarly, publishing your content on low-quality or irrelevant websites can negatively impact your website's authority leading to lower search rankings. Hence, understanding the implications of content syndication on SEO is important. 
For this, you must have an SEO damage control plan that addresses the SEO snags if any. Implement canonical tags when working with syndication partners to ensure your content stays original and mitigate the occurrences of negative SEO. Request your content syndication partners to include backlinks to your original content. This helps search engines identify the original content source and improve its rankings.
Be mindful of the quality and relevance of the websites you partner with as authoritative websites can boost your search engine rankings and strengthen your brand credibility. 
7. Syndicate Regularly and Track Results
Lastly, syndicating regularly and tracking the results of your syndication efforts are crucial steps in optimizing your content syndication campaign plan. It helps you maintain a steady brand presence across various platforms thereby boosting your brand visibility and reach. 
Create a content syndication calendar to schedule and organize your content syndication activities. Diversify your content by repurposing it to provide a fresh perspective to engage different audience segments and attract a wide range of readers. 
Pay attention to the engagement you receive on syndicated content by monitoring the comments, shares, likes, saves, and more. Invest in responding to those comments and direct messages to engage your readers. Build lasting relationships with your audience and foster further engagement.
Implement tracking and analytics tools to monitor the performance of your syndicated content on a timely basis. Track metrics such as impressions, clicks, conversions, and engagement levels.  It will also give you detailed insights to refine your syndication strategy and adjust your approach and efforts. Thus, helping you maximize the impact of your syndicated content.
For instance, Sarah Peterson, Author of Unsettle.org, republished her article on Elite Daily along with a link to her course. This exercise of content syndication helped her gain over 1000 new subscribers for her course. She could measure the results of her content syndication campaign because she monitored the performance of her content piece on Elite Daily regularly.
Analyze which platforms or syndication partners are driving the most traffic or generating the highest quality leads. This data will help you identify the most effective syndication channels and make data-driven decisions for future campaigns.
Wrapping Up
Content syndication offers immense opportunities for expanding your brand's reach and engaging with new audiences. To accomplish your content syndication goals, you need to optimize your content syndication plan constantly. This will also improve the results achieved through your content syndication strategy
By implementing the tips and tricks we shared in this guide, you will harness the power of content syndication. It will also drive meaningful interactions and help you achieve your marketing objectives. So, start planning your content syndication campaign today and skyrocket your brand's digital visibility and growth.