Businesses today are striving to capture the attention of the target audiences for marketing their content to boost sales. No wonder, the global content marketing industry is reported to grow by $584.02 billion at a CAGR of 16.37% during 2023 -2027. 
However, it is difficult for businesses to reach out and engage their audience because of hundreds of thousands of content pieces that are already available on the internet. Investing in  effective marketing strategies thus becomes the need of the hour.  Businesses are adopting new tactics to maximize their content reach and boost their subsequent impact.
Content syndication is one such strategy that has proven to generate incredible results for amplifying brand reach and visibility. By distributing your existing content on leading websites and publications, you can establish yourself as a thought leader and attract desired prospects to your brand. 
Besides increasing brand reach, content syndication does offer numerous benefits. In this post, we will learn about the top benefits of syndicated content that makes it an outstanding tactic for enhancing brand visibility, generating high-quality leads, and driving your businesses to success.
6 Benefits of Content Syndication You Should Know
1. Increases Content Exposure
Content syndication boosts your brand exposure by distributing your content pieces to a wider audience and driving targeted traffic to your website. By syndicating your content on authoritative websites, you can reach out and attract a larger audience that otherwise you might not have access to and present yourself as an industry expert.
Content syndication offers you a fair chance at repurposing your existing content to target niche audiences thereby amplifying its reach and discoverability. Suppose your blog post receives a reach of around 5000 customers, you can maximize this reach with content syndication. By leveraging the benefits of syndication blog content for businesses, you can multiply this reach to go up to 100k with republishing.
For example, the social media scheduling tool Buffer regularly syndicates their content to leading websites, such as Inc., The Next Web, Fast Company, and more. The team originally started with guest posting and later scaled their efforts to a fully-fledged content syndication campaign. Here is a screenshot of Buffer's content syndication effort for one of their content pieces.
Content syndication boosts your website's organic traffic by attracting a new set of readers and engaging them in a variety of content pieces, like blog posts, datasheets, case studies, webinars, videos, and more. 
In fact, having your content published by credible websites makes search engines view it as a valuable and informative resource. Hence, they push your content rankings higher in the search results over time. This indirectly contributes to redirecting more traffic to your website.
2. Enhances Domain and Brand Authority
The next one among benefits of content syndication is that it helps you boost your brand authority and establish yourself as a subject matter expert. It presents your company as a thought leader to scale awareness of your brand.
Content syndication helps you spread the word about your brand to build your brand credibility and reputation. By increasing the chances of being recognized by large audiences, it aids you to establish a firm footing in the industry. It instills a sense of authority and fosters trust among your audience who then perceive you as a reliable source of information.
3. Builds a Powerful Backlink Profile
Leveraging content syndication for link building is one of the most effective methods of strengthening your backlink profile and boosting your website SEO efforts. Backlinks to your original posts from trustworthy websites are seen as valuable and credible by major search engines. Thus, these content pieces are highly likely to appear at the top of the search results in considerably less time. 
Whether you are republishing the entire piece of content, editing it down to a shorter piece, or posting a small excerpt, ensure that you get a link back to your website. Such backlinks redirect your target readers to your website encouraging them to explore the content piece in depth. This increases your website traffic organically while boosting your SEO efforts.
Backlinks also act as social proof demonstrating the value of your content and your brand. There are many content syndication networks out there that can skyrocket your link-building efforts to yield better brand exposure. Outbrain, SlideShare, Medium,  Taboola, and Business2Community, are some of them. In fact, 79% of marketing leaders are actively leveraging at least one content syndication vendor to boost their marketing initiatives. 
Check out this post published on The Kingdom Insider. As this content was syndicated from the Walt Disney Website, the publisher mentions a short note toward the end of the post. Did you see the backlink that redirects to the Walt Disney Company website? 

4. Improves Lead Generation Efforts
Lead generation is one of the most amazing benefits of content syndication. Syndicating content helps you address like-minded audiences and prospects, eliminating the risk of generating unqualified leads. These prospects being good customer fits are more likely to be interested in your content and offerings. 
Did you know about 30% of B2B marketers find content syndication to be one of the most effective lead-generation tactics? You can capture genuine leads by republishing gated content on authoritative websites and encouraging your prospects to share their details for downloading the same. 
Content syndication companies like Arkentech offer effective B2B lead generation and content syndication services that include promoting digital assets of B2B businesses to the right audience via content syndication. Some of the best digital assets that you can leverage for content syndication are –
Ebooks

Infographics

Cheatsheets

Whitepapers

Videos
5. Offers Cost-Effective Omnichannel Marketing Medium
Content syndication is more affordable than other marketing mediums as it does not require you to create content from scratch. It allows you to generate more leads by tapping into established platforms having dedicated audiences who are interested in reading your content. This reduces the costs associated with creating fresh content for every publication and channel.
Syndicating your content across various platforms, such as websites, social media networks, community forums, newsletters, and more helps you increase the visibility of your content without requiring heavy investments for advertising or content promotions. Your audience can consume this content in a format that appeals the best to them offering you enhanced exposure and better engagement. 
This omnichannel approach of distributing content on different platforms saves a lot of time and money. Imagine the amount of effort you would have to otherwise spend on creating fresh content and promoting it on multiple channels.
For example, Moz has been leveraging the benefits of syndicating video content by publishing the Whiteboard Friday videos they make on their website on to YouTube. Check out the screenshot below to see how Moz has made a playlist #whiteboardFriday to syndicate their videos on YouTube.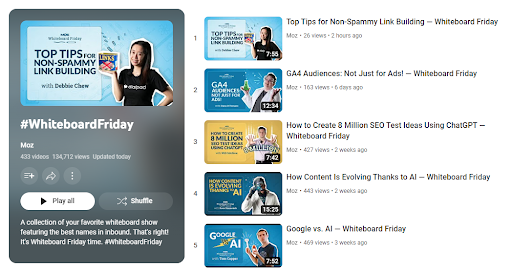 6. Fosters and Nurtures Strong Business Partnerships
The last one among the benefits of content syndication is building strong business relationships. Content syndication helps you establish a connection between your brand and the publisher, leading to exciting business collaborations and partnership opportunities. For example, syndicating content may open avenues for content co-creation, guest posting, cross-promotions, endorsements, and other engagements.
Content syndication also helps you network with industry experts, influential individuals, business leaders, and others which can boost your position and recognition in the industry. You may be provided with a platform to showcase your industry knowledge and expertise, such as guest-speaking at events, conferences, expert interviews, and more. 
Syndicating content helps you foster meaningful connections with industry professionals who could contribute significantly to your brand's growth and success.
Wrapping Up
Content syndication can amplify your content reach and drive your brand's success to great heights. We are certain that this post about the benefits of content syndication has helped you identify the true potential of this excellent marketing tactic.
Invest in content syndication for your business today with the help of the best strategies and innovative content syndication tools. And, establish yourself as an expert brand in this digital landscape.