Creating compelling content is no doubt one of the first steps toward building successful marketing campaigns. However, considering the humongous amount of content pieces being published every day, it is crucial for brands to invest in efficient marketing strategies to increase their visibility and reach. 
Did you know there are over 6+ million blog posts published worldwide each day? Imagine how fierce the competition for capturing the attention of your desired target audience is. 
Content syndication has emerged to be a powerful strategy for boosting content reach and increasing brand visibility. One of the crucial benefits of content syndication is it helps in distributing content across various channels to maximize content exposure. However, managing content syndication manually is not feasible. That's where content syndication tools come into the picture. These tools offer a range of features that streamlines the syndication process to yield effective results.
In this post, we will explore the top 10 best content syndication tools that can significantly boost your content distribution and promotions strategy. These tools are used by leading content syndication companies across the globe for reaching new audiences, increasing website traffic, and generating high-quality leads.
10 Best Content Syndication Tools You Must Consider Investing In
1. Outbrain
Outbrain is a well-known content discovery platform that offers content syndication services to brands that are wanting to promote their content on high-authority websites. Outbrain's extensive content syndication network consists of leading publishers, individual writers, media companies, and more that are constantly looking for original content pieces. It allows brands to tailor their content assets according to the audience's interests thereby helping them build targeted marketing campaigns.
Source
Key Features –
Content discovery and publication

Campaign management and analytics

Personalized content to target the right audiences

Geotargeting and engagement tracking

Real-time analytics and reporting
Pros – 
Extensive publisher network

High engagement rates

Excellent targeting capabilities
Pricing
– Pay-per-click model
2. Flipboard
Flipboard is a personalized news aggregation platform for discovering, curating, and sharing content pieces from various sources in a magazine-style layout. It creates a customized digital magazine containing news, articles, videos, and other types of content based on the reader's preferences. 
Besides content, Flipboard offers a social media component that allows readers to discover content created by your brand on your social media pages. This platform publishes content from leading news organizations, niche blogs, and publishers making it one of the best content syndication tools for featuring excellent content and driving brand awareness.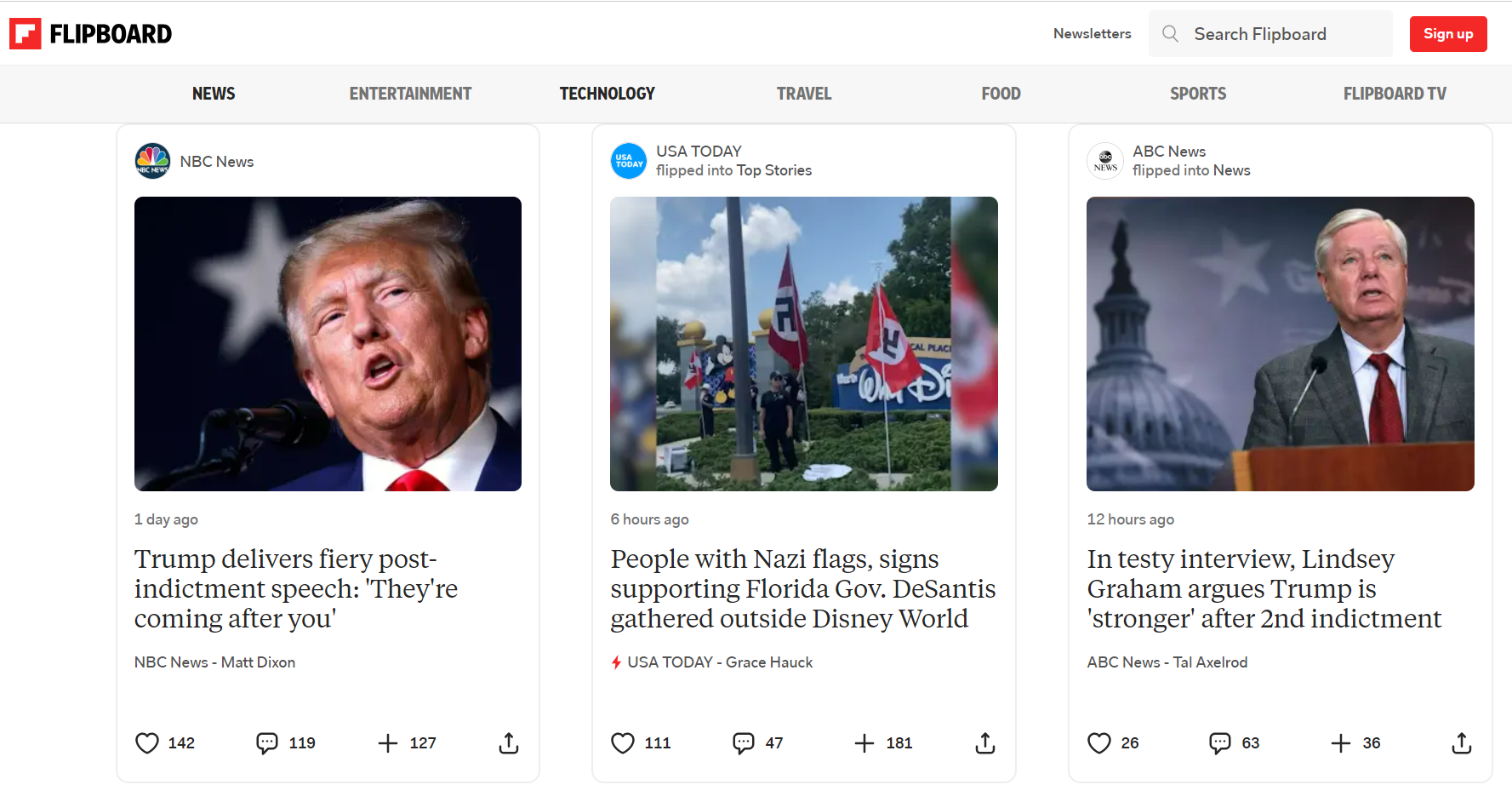 Key Features
– 
Content aggregation

Magazine-style layout

Social media integration

Offline reading supported
Pros
– 
Personalized content recommendations

Visually-appealing layout and design

Available on mobile devices and desktop
Pricing
– Free
3. Substack
Substack is another popular content publishing platform that can be leveraged for content syndication. It allows publishers, journalists, and writers to promote their content through newsletters to subscribers. By helping the publisher establish a direct relationship with the readers, Substack helps brands create a loyal following by offering an intimate reading experience.
Source
Key Features
– 
Newsletter publishing with branding and customizations

Audience building and management tools

Enhanced email delivery

Subscription management

Analytics dashboard
Pros
– 
Easy-to-use interface

Improved audience engagement

Direct monetization opportunities
Pricing
– Free
4. Shorthand.com
Shorthand.com is another digital publishing tool that can be used as a content syndication platform for creating and sharing interactive stories. It offers a suite of tools and templates to design and publish visually-appealing narratives, presentations, and articles. Because of its innate ability to create media-rich stories, it has become one of the preferred platforms for digital storytelling.
Source
Key Features
– 
Content creation and publishing via interactive storytelling

Customizable templates to create professional-looking content

Team collaboration tools

Intuitive workflow for a seamless content creation process

Integrations to enable easy publishing

Analytics dashboard
Pros
–
User-friendly interface 

Drag-and-drop editor 

Excellent customer support
Pricing
– Subscription-based pricing
5. Slideshare
Being commonly used by business leaders, educators, marketers, and sales professionals all over the world, SlideShare is one of the best free content syndication tools. It is another popular content publishing channel for sharing presentations, infographics, PDF documents, slide decks, and so on. Due to its immense reach, it serves as the perfect choice for sharing valuable content, demonstrating industry expertise, and building a strong brand. 
Source
Key Features –
Content sharing

Content discovery

Community building and engagement 

Detailed analytics
Pros – 
Outstanding platform for sharing educational content

Wide reach

Ideal for boosting content SEO rankings
Pricing
– Free
6. Taboola
Taboola is a content discovery platform that allows publishers and advertisers to promote content and drive traffic to their respective websites via personalized recommendations. This platform is powered by an intelligent recommendation engine that analyzes the visitor's behavior and preferences to suggest articles, blog posts, and videos to deliver tailored content at all times.
Source
Key Features
–
Content publishing

Personalized content recommendation

Native advertising

Performance tracking and optimization
Pros
–
Excellent brand exposure

Extensive content reach and distribution

Enhanced user engagement

Monetization opportunity available 
Pricing
– Cost-per-click model
7. LinkedIn Publishing
LinkedIn Publishing is one of the free content syndication tools that is being leveraged by many brands worldwide. It allows brands to create and publish content directly on their LinkedIn profiles. Known as LinkedIn Pulse or LinkedIn Articles, this platform is widely used by business experts, influencers, thought leaders, and other professionals to share informative content with their network.
Key Features
–
Content syndication

Content creation and distribution

Analytics
Pros
–
Excellent reach and visibility

Better engagement

Networking opportunities

Great platform for building a personal brand
Pricing
– Free
8. SoundCloud
SoundCloud is an open audio streaming and distribution platform that is being leveraged by creators, curators, and listeners from all over the world. It allows users to discover, upload, and share audio content thus making it an ideal platform for content syndication campaigns. Because of its wide audience base, content syndication on SoundCloud helps brands reach a larger audience and engage them with their content.
Source
Key Features
–
Audio upload and sharing

Social networking capabilities

Analytics and data insights

Available on iOS and Android devices
Pros
– 
Community-driven platform 

A vast catalog of audio content

Exposure to a global audience

User-friendly interface
Pricing
– Free and subscription-based plans
9. Zemanta
Powered by Artificial Intelligence, Zemanta is a content marketing platform that helps brands amplify their content reach by distributing it across various online platforms via native ads. Zemanta syndicates your content to several sites in its content syndication network while promising amazing exposure.
Key Features
– 
Content distribution to a larger audience

Native advertising

Content recommendations engine

Real-time content optimization

Analytics and Reporting
Pros
–
Increased content reach

Targeted and relevant content distribution
Pricing
– Cost-per-click model
10. Visual.ly
Visual.ly is a content creation platform that enables businesses to create visually appealing content pieces, such as infographics, presentations, brochures, videos, ebooks, pitch decks, and other visual assets for better marketing. As Visual.ly is a specialized tool for creating premium visual content, it is one of the best content syndication tools for marketing a brand's visual content assets. 

Source
Key Features
– 
Infographics creation

Video production

Presentation and reports design

Illustrations and ebooks creation

Team collaboration
Pros
– 
User-friendly interface

Drag-and-drop functionality

Increased asset engagement

Customizations for branding are available
Pricing
– Custom pricing structure

Wrapping Up
Content syndication tools offer powerful tools and solutions to enhance your content distribution strategy. These tools can effectively distribute your content across multiple channels for attracting new readers and increasing brand exposure. 
If you wish to supercharge your content syndication strategy and amplify your content reach, you must invest in the right content syndication tools. We hope this post has helped you learn more about the best content syndication software and choose the one that is right for your brand.